Arizona Real Estate Trends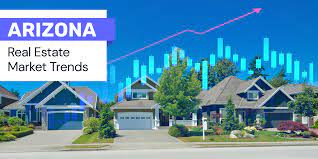 The Arizona real estate market is showing signs of cooling but is still a sellers' market. The cooling has several reasons, but the lack of available inventory will likely increase prices in the coming months. In the past few years, the Phoenix real estate market has seen sky-high prices and a lot of activity. This has been attributed to increased demand for housing due to the low cost of living and a growing economy. However, as interest rates rise, buying a home in the state is becoming more challenging.
Several buyers are being priced out of the market and unable to afford the price tags. As a result, homes are not selling as quickly as they did before. According to RE/MAX data, home prices in the metro area dropped slightly in the year's second half. However, this hasn't been enough to stop the upward trend. The slowdown appears to be temporary, as the Phoenix real estate market continues to experience rapid growth. By the end of the year, the market will have leveled off, and the number of listings should rise. Many factors contributing to the Arizona real estate market's strong performance over the past few years still affect it today.
One of the biggest is population growth. Arizona is currently the fourth fastest-growing state in the country. People are moving into the state in large numbers thanks to its low cost of living and its cultural attractions. Some of the state's fastest-growing areas include Tucson, Glendale, and Flagstaff. Another factor contributing to the strong market is that Arizona is one of the few states that continues to experience significant migration. Over the past few years, several people have moved to the state, primarily to take advantage of the cheap cost of living and the city's culture.
However, several factors could impact the economy in the future. For example, if interest rates go up, it could cause a general cooling of the Arizona real estate market. The housing market is also vulnerable to inflation. Its wages aren't keeping up with the rising costs of housing. Additionally, the federal government has raised the benchmark lending rate by three-quarters of a percentage point, which will further impact the affordability of mortgages. Mortgage applications have also decreased, as several buyers have been unable to get loans. Despite these factors, the Phoenix real estate market is still expected to continue its strong performance through the next few months. The Phoenix-Mesa-Chandler metro area is predicted to remain a seller's market through the first two quarters of 2022. After that, the market will stabilize and become a moderate buyer's market. Those looking to invest in the Arizona real estate market should look at some of the predictions for the market in the coming years.