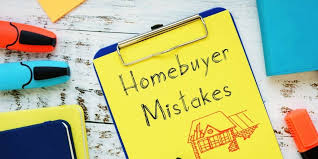 Avoid House Buying Mistakes in Phoenix, AZ
Are you an eager home buyer looking to lay down roots in the Phoenix, Arizona, area? There are numerous things to consider, from prices and neighborhoods to job opportunities and school systems. Once you decide on the exact location, it's time to explore your Phoenix home options.
Often, the home-buying process is as much about what NOT to do as it is about making the right decisions. Over 200 new residents move to Phoenix daily, which means fierce competition. If you want to increase your chances of landing your dream home before someone buys it from under you, keep reading. This article covers seven common house-buying mistakes to avoid so you can expedite the process and start the next chapter of your life in Arizona.
1. Buying the First House You See One of the most common house-buying mistakes people make is rushing the process. Especially in today's hot market, where homes are sold within minutes of being listed. No matter how perfect the first house you see is, shopping around is essential. Eager buyers who make an offer on the first house they visit are usually overly excited or pressured to buy. Don't let time constraints or your emotions drive your home-buying decisions. Look at several other places to compare prices and features. Schedule a second viewing and a walkthrough of the first house. You may notice things you didn't see the first time around. Now, you can make a more informed decision and a fair offer.
2. Shopping Outside of Your Budget Budgets is designed for a reason to ensure that you don't overextend yourself financially. It is essential to set a budget as part of your house-hunting strategy. But it's even more important to stick to it. Before exploring your Phoenix home options, examine your finances, including your debt-to-income ratio and financing needs. If you are applying for a mortgage, it helps to get pre-approved. This also gives you a leg-up on the competition. Avoid looking at houses way above your budget, as it frustrates you and the seller.
3. Failing to Account for Additional Fees Comparing home prices isn't enough when setting your budget. You also need to calculate closing costs and any other additional fees. Failing to do so could put you in a financial pinch and delay the closing. The most common different prices include closing costs and estate agent fees. Closing costs vary per state and average around $4,000 in Arizona. In most situations, the buyer pays most of (if not all of) the closing costs. You may also need to pay agent fees or invest money in home renovations and repairs. Include all of these facts and figures in your final budget.
4. Going It Alone Another common house-buying mistake is tackling the process alone. Although some people have no trouble finding a house without a realtor, experienced agents can help in numerous ways. And chances are, you'll need their expertise at least once during the home-buying process. Local agents know all the ins and outs of living in Phoenix. They can recommend the best neighborhoods, communities, and home builders. They may also have access to exclusive listings, increasing your chance of finding a home that fits your needs and budget. From start to finish, the home-buying process can be stressful and overwhelming. A realtor can help you through the entire process, including putting in an offer, negotiating a price, and filing all the required paperwork. The last thing you want is for your dream home to slip through your fingers on a technicality. Avoid these house-buying mistakes by hiring an industry expert.
5. Not Being Open-Minded Not every house sale goes as planned. It is essential to have realistic expectations when house hunting. This includes having an open mind about specific locations and home features. For example, if there aren't many houses within your budget, you may need to broaden your horizons and lower your expectations. This doesn't mean settling for less it just means being open to alternative options. Try looking at the home's potential versus what meets the eye. You can update gaudy furnishings, outdated appliances, or light fixtures later. For now, focus more on the home bones than how it is decorated.
6. Dragging Your Feet Buying a new house is one of the most significant decisions of your life, which is why some people hesitate to commit. Even if you find the perfect place for the right price, you might worry that something is even better. Constantly second-guessing yourself or dragging your feet could cost you your dream home. In a fast-paced seller's market, you need to act quickly. Don't wait to schedule a viewing or show interest in a new listing. Waiting a day or even a few hours could be the difference between closing the deal and losing out.
7. Failing to Schedule a Home Inspection Unless you are buying a turnkey house, it is in your best interest to schedule a home inspection. Even if the sellers seem like good, honest people (and they likely are), a home inspection will uncover any major issues with the property. If the home needs repairs or has structural issues, you can negotiate a lower price or demand the homeowners fix the problem before closing. Significant issues may be grounds for withdrawing your offer, depending on your agreement. A home inspection can also save you from unexpected headaches and expenses. Avoid These House Buying Mistakes and Take the Stress Out of Moving Congratulations! You made the wise decision to relocate to Phoenix, Arizona. Residents love the mild winters, access to nature, and booming economy. But before you start exploring your Phoenix home options, it is essential to know which house-buying mistakes to avoid. Hiring an experienced local estate agent to help simplify the process.