The Best Places to Be in the Valley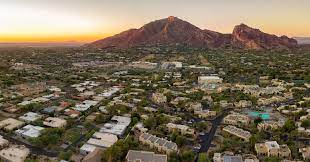 Welcome to the one and only Valley of the Sun, where the sun shines bright and the real estate market is even more promising. The region has experienced significant growth in recent years, with more and more people moving to this beautiful desert oasis. As a real estate expert in the area, I've compiled a list of the hottest neighborhoods for homebuyers in 2023. These communities offer a fantastic blend of amenities, location, and value, making them particularly attractive to potential homeowners.

1. Arcadia:
Located in the heart of Phoenix, Arcadia is the trendy, vibrant neighborhood known for its beautiful homes, lush greenery, and proximity to shopping, dining, and entertainment options. The area boasts some of the best schools in the valley, making it an ideal place for families looking to put down roots. With a mix of mid-century modern and new construction homes, Arcadia offers a variety of architectural styles to suit any taste.

2. Gilbert:
Gilbert is a rapidly growing suburb located southeast of Phoenix. Known for its wonderful family-friendly atmosphere and excellent schools, Gilbert has attracted many young families and professionals in recent years. Gilbert offers various housing options, from modern single-family homes to luxurious master-planned communities. Its vibrant downtown area, with a mix of boutiques, restaurants, and entertainment venues, adds to its appeal.

3. Paradise Valley:
Nestled between Phoenix and Scottsdale, Paradise Valley is a sought-after neighborhood for luxury homebuyers. This affluent community features stunning views of the surrounding mountains and impeccably manicured landscapes. Paradise Valley is home to some of the most luxurious properties in the region, with sprawling estates and custom-built homes. In addition to its prestigious reputation, the area offers easy access to high-end shopping, dining, and golf courses.

4. Downtown Tempe:
For those seeking an urban lifestyle, downtown Tempe is the place to be. This lively neighborhood offers a mix of modern condos, townhouses, and single-family homes, all within walking distance of Arizona State University and the bustling Mill Avenue District. Residents can enjoy various cultural and entertainment options and easy access to public transportation and major freeways.

5. North Central Phoenix:
North Central Phoenix is a charming, established neighborhood that has recently grown in popularity. The area offers diverse architectural styles, from historic ranch-style homes to modern new builds. With its tree-lined streets, excellent schools, and convenient access to the city's amenities, North Central Phoenix has become a top choice for families and young professionals alike.

The Valley of the Sun is an incredible place to call home, and these neighborhoods represent the best of what the region has to offer. Whether you're looking for a luxurious estate, a family-friendly community, or an urban oasis, you will find the perfect fit in one of these hotspots for your unique needs and lifestyle.