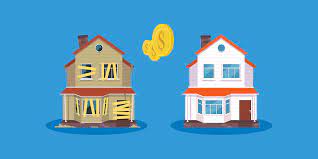 Buying a Home with Repairs
Buying a home needing a little TLC can be a great way to build equity. However, it would be best if you were cautious of the pitfalls.

One of the best ways to ensure your home purchase is successful is to get pre-approved for a mortgage and a home improvement loan. This will allow you to negotiate a mortgage with an interest rate more in line with your financial situation.

Home repairs can be pricey, but if done right, they can add significant value to your home. Researching the cost of renovations will help you budget appropriately and compare the price of home improvements to the cost of maintaining your current home.

The best part is that you can often buy a home that needs much less money to fix up than you would have initially thought. Using the most efficient way to remodel your home is also a good idea, as it can save you money.

The Best Home for the Money – The Smart Moves You Can Make

In today's crowded housing market, finding the right home for you and your family can be like a treasure hunt. An excellent real estate agent can guide you through the process, and if you use their expertise to your advantage, you're sure to find the best home for your family.