Phoenix Spotlights To See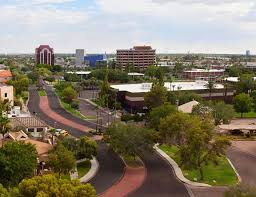 In recent years, Phoenix has redeveloped some of its most neglected neighborhoods. But, housing discrimination is still a factor. Many communities lack sidewalks, trees, and public lighting. And some homeowners have trouble refinancing to fix up their homes.

The city is expanding its light rail system, but many residents aren't pleased. They are skeptical about whether the extension will benefit their community. Some have claimed that the city attempts to "make good on broken promises," while others have said the plan will only add to traffic, congestion, and the cost of living.

There is no denying that the housing market in south Phoenix has become an affordable housing dilemma. Homeowners in the area have seen their rents increase 67% since 2015. The typical monthly rent is $1,450, much more than many families can afford. This trend is expected to continue in the next few years. Foreclosure rates have also increased in the area.

Aside from the light rail, other solutions have been proposed. One is the South Central Transit Oriented Development (SCOTD) plan. It lays out guidelines for gentrification and infrastructure in the area while acknowledging decades of underinvestment.

Another solution has been the formation of the South Central Collaborative, a nonprofit organization that works to ensure the community has equitable opportunities for community development. Shannon Scutari and Francisca Montoya are two residents who are a part of the effort.

One of the city's biggest attractions, the First Friday celebration, also occurs every month. It includes music, street artists, and exhibitions. The area also has a variety of eateries, including Majerle's, a burger and beer restaurant. Now headed by former Grand Canyon University basketball coach Dan Majerle, it attracts local business crowds.

However, the most exciting and essential thing to do in the area is to take the time to celebrate the many facets of the region. Despite a housing crisis that looms over the future of south Phoenix, the part is now being remodeled. More sidewalks, better infrastructure, and improved housing make the neighborhoods better places to live. Those who want to join in on the transformation can get involved with the SoPho Convening, which is focused on improving equity in southern Phoenix.

In addition to the South-Central Transit Oriented Development plan, several other projects are underway in the region. For example, the VA Phoenix Health Care System, which provides free medical care for veterans, offers a robust schedule of community events. Also, there are plans for more schools, affordable housing, and shopping. These efforts are designed to provide a more balanced population in the area, which will, in turn, help revitalize the city.

Finally, there are the scourges above the housing industry, such as the redlining policy and the development of the Sky Harbor International Airport. These actions pushed Latino and Black families from the central part of the city to the suburbs, leaving behind substandard housing and infrastructure.