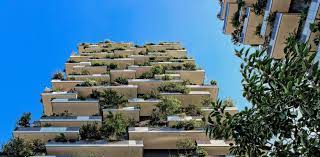 These days, the 'green' label gets thrown around a lot. There's no end to the list of things advertised as less harmful to the environment than their traditional counterparts. Far from following the trend, the housing industry has long been ahead of the curve. Residential development continues at the forefront of this commitment to green building, with alternative insulation materials going mainstream, solar panels popping up on rooftops nationwide, and water-saving technology becoming the norm. But while these additions and renovations can be great, many eco-minded homebuyers don't realize how efficient and environmentally friendly it can be to live in multi-unit buildings. Luxury condos are green by their very nature!

The Benefits of Population Density

The more a single structural element, utility, or appliance can be shared, the more efficient it is. In a luxury condo, a shared wall does what two separate divisions would in houses. That translates to half as much building material to construct the wall, whether it's wood, brick, concrete, etc. It's common for utilities to be centralized in a condominium complex. The water heater serves multiple units, which is far more efficient than heating multiple small water heaters. The same holds for air-conditioning and heating, which benefit from scaling up and serving various residences. Combining these functions that would need to be replicated at each home, multi-unit homes maximize the efficient use of building materials and electricity.

Space to Breathe

On the other side of the equation, minimizing sprawl by sharing structures and appliances leaves more room on the property for outdoor features. Luxury condominiums have a much smaller footprint per-unit basis than individual homes. This means the grounds can be more extensive and luxurious, with water features and even small community gardens that would not be possible on many small lots.

The Cutting Edge

While luxury condos are environmentally friendly by nature, developers are increasingly using multi-unit residential construction to push the boundaries of green living. This is owed, at least in part, to the overwhelmingly green values and trends displayed by young, hip urbanites. Young professionals have shown especially significant interest in the Leadership in Energy and Environmental Design (LEED) certification for buildings. LEED certification encourages developers to incorporate alternative energy sources like solar panels for electricity or hot water. Another LEED innovation is using so-called grey water systems to recycle sink and drain water into the landscape. This water-saving technology is trendy in the arid West, where drought has forced California and Arizona cities to mandate public water cuts.

Today, many homebuyers are interested in spending on environmentally responsible housing choices. Whether it's a first home or a retirement pad, more and more buyers should look to luxury condos as eco-friendly options.