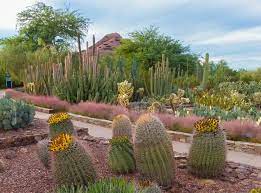 Arizona has it all, whether you want an adventure or a place to cool off! Here are 12 of the best free things to do while visiting.

Start with a free visit to the Desert Botanical Garden, where you can walk around the well-maintained trails and learn about the Phoenix desert's plants. It's open on free Tuesdays in the fall and spring, so check it out!

1. Visit the Desert Botanical Garden
The Desert Botanical Garden is a world-class destination for desert plants and a place to learn about the Sonoran Desert. It offers specialized tours, special events, seasonal exhibits, concerts, family activities, and a gift and plant shop.

Started by Swedish botanist Gustaf Starck and heiress Gertrude Webster in 1939, it's a non-profit museum dedicated to research, education, conservation, and displaying desert plants. It spans 145 acres within Papago Park.

2. Visit the Phoenix Art Museum
Located in the Central Corridor, the Phoenix Art Museum is one of the largest museums for visual arts in the Southwest. It displays international exhibitions alongside its permanent collection of more than 18,000 works of American, Asian, European, Latin American, Western American, modern and contemporary art, and fashion design.

The museum is alive with activities and offers something for everyone. Visitors can take one-hour docent-led or self-guided audio tours in English and Spanish to explore the permanent collections.

3. Hike Camelback Mountain
Camelback Mountain is an iconic part of Phoenix and is often visited by locals for hiking. It offers incredible city views and a chance to escape the city for fresh air.

There are two main hiking trails, Echo Canyon Trail and Cholla Trail. Both are challenging, but Echo Canyon is the way to go if you want to reach the top fast.

4. Visit Goldfield Ghost Town
Atop a hill near the Superstition Mountains and Goldfield Mountains, Goldfield Ghost Town started when miners discovered gold. Soon, the town grew to include an official post office, saloons, a general store, a school, and more.

Today, the town is a popular tourist destination for travelers who want to experience Arizona's rich mining history. Visitors can tour the underground mines, ride the only narrow gauge train in Arizona, or shop in the stores and restaurants.

5. Visit South Mountain Park
South Mountain Park and Preserve are fantastic for hiking, nature watching, and horseback riding. It offers a perfect balance between desert and mountain trails spanning 58 miles.

The 16,000-acre park combines the Ma Ha Tauk, Gila, and Guadalupe mountain ranges. It's also home to Native American petroglyphs.

6. Visit Cabela's
Located in the desert just outside of Phoenix, this 160,000-square-foot showroom is a must-visit for any outdoor enthusiast. It boasts a decor of museum-quality displays and an impressive array of trophy animals interacting in realistic re-creations of their natural habitats.

The best thing about this shop is its surprisingly good restaurant so you can indulge in some of the best food in town. In addition, it has a great selection of hunting and fishing gear, so it's a must-stop for any serious outdoor buff.

7. Visit Bass Pro Shop
If you are looking for a fun place to shop for outdoor gear, then Bass Pro Shop is the best option. It offers products for hunting, boating, fishing, and camping.

The store is known for its impressive decor, giant aquariums, and delicious food. They also offer free outdoor skills workshops for adults and children.

8. Visit Heritage Square
If you're looking for something a little different than the traditional tourist attractions in Arizona, look no further than Heritage Square. The open-air lifestyle center preserves 10 Territorial-era buildings.

Anchored by the historic Rosson House Museum, the site interprets Phoenix's early history. Visitors can take a 60-minute tour of the house and learn about life in the late 1800s.

9. Visit the Arizona Capitol Museum
Located in Phoenix's historic state Capitol building, the Arizona Capitol Museum tells the story of the state through exhibitions and public programs. It also offers a research library and gift shop.

Over 20 exhibits showcase historic and contemporary artifacts from the state's collections. Visitors can learn about the sinking of the USS Arizona, a pivotal event in the state's declaration of statehood, or peek at the historic House Chamber.

10. Visit the Phoenix Police Museum
If you're a law enforcement fan, the Phoenix Police Museum is a must-visit. It's free and offers various educational exhibits to educate the community about police history and the Phoenix Police Department.

It also has a sad memorial room dedicated to Phoenix police officers killed in the line of duty. It's a truly humbling experience.