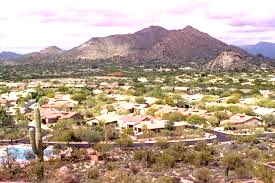 States like California and New York are traditionally considered the top real estate markets. However, Arizona is now booming and growing quickly.

There are many reasons why people want to buy into the Arizona real estate market. Whether it's the warm weather, the beautiful landscape, or the great schools, buying a home in Arizona is an excellent choice.

With such a popular real estate market, you must arm yourself with the most informative information possible to purchase the right home for you and your family.

If you are interested in purchasing property for a move within or relocation to this great state, you should know a few things. Keep reading for 7 seven things you should know about the Arizona real estate market.

1. The Arizona Real Estate Market is Cooling
Arizona remains one of the hottest real estate markets in the country. However, analysts are showing a cooling trend regarding the number of listings hitting the market.

In Phoenix, 11,845 new residential listings hit the market over the past month. Although the numbers show an uptick in listings for 2022, the numbers are down compared to three years ago.
Experts still see Arizona as a seller's market but believe housing prices are starting to level. This news is music to the ears of people wanting to purchase real estate in Arizona.

2. Homes Sell Within 22 Days of the Listing
A promising sign for sellers of real estate in Arizona is their properties are getting in front of committed buyers. Those buyers are serious about purchasing properties and ensuring they are in the best position to buy when the right home hits the market.
Now is not the time for DIY home buyers. It doesn't cost you anything to use a real estate agent because, typically, realtor fees get paid by the seller. You want the best real estate firm in your corner.

3. More Than 50% of Homes Sell Above the Asking Price
Another win for sellers of Arizona real estate is buyers are willing to pay more than the asking price. Many buyers have AZ real estate agents working hard to secure winning bids.

These agents also know when to let a property go if bids begin to outpace the property's value. Buying a home in a hot market can cause buyers to get into bidding wars. Having a realtor in your corner is essential when a seller takes advantage of a bidding war.

4. About 30% of Homes Sell Below Asking Price
The best four words someone interesting in buying real estate in Arizona can hear is "below the asking price." Despite 50% of homes going for more than the list price, many homes sell for less. This practice is common when a home has been on the market longer than comparable properties.

There are various reasons why a home doesn't get the asking price. Reasons include that the home has been on the market for a long time or requires significant upgrades. Perhaps the owner is motivated to sell and will see a large profit regardless of the selling price. In worst-case scenarios, the owner is trying to avoid foreclosure, or the home is not appraising at the asking price.

Regardless of the reason, buyers should not shy away from making an offer below the list price. Realtors clearly understand what's happening in Phoenix real estate and surrounding areas. They'll let you know when a property is overpriced.

5. Popular Properties Have Contracts Pending in Seven Days
The process of buying a home is quicker due to technology. Another driver is investors buying properties. Here, the seller's market sends real estate in Arizona into the fast lane.

This trend reminds us that serious homebuyers must have their paperwork in order. If you're planning to buy a house in the Arizona real estate market, you need to have your financing secured. Homes are going under contract in seven days or less.

Motivated sellers want buyers who are committed and ready to take ownership as soon as possible. If the right house comes up for the right price, you need to be ready to give your realtor the go-ahead to make an offer. Having the maximum amount you're willing to offer is also crucial. This way, the realtor doesn't waste time going back and forth between you and the seller.

6. First-Time Homebuyers Need to Become Strategic
The current housing market is intimidating for first-time home buyers. You're hearing many gloom and doom stories about how you'll never be able to afford a home. The truth is that many people can still purchase their first homes.

The key is to become strategic and willing to reprioritize your must-have list. Start by looking beyond Phoenix real estate. Instead, look at surrounding suburbs that might have less expensive properties.

Save a little more for your down payment.
Accept that your first home might not have a pool or a gourmet kitchen. Look for properties that will allow you to remodel or add a pool a few years later. Or, buy now with the goal of selling in five to 10 years to buy your dream home.

7. Don't Forget About Foreclosures
Yes, Phoenix is the hottest AZ real estate market in the country. However, it's not immune from skyrocketing foreclosures.

In September of 2021, the foreclosure moratorium enacted as part of the COVID relief bill expired. Landlords and mortgage companies filed evictions and foreclosures on tens of thousands of people.
Home buyers should ask their real estate agents about viable options for buying a foreclosed property.

Is Phoenix, Arizona a Place to Call Home?
Most buyers look at the Realtors' national and state housing numbers. But each city in the Arizona real estate market is unique and should be carefully researched. Look at Phoenix, Tucson, and Scottsdale. They have had decent real estate markets for the past year.