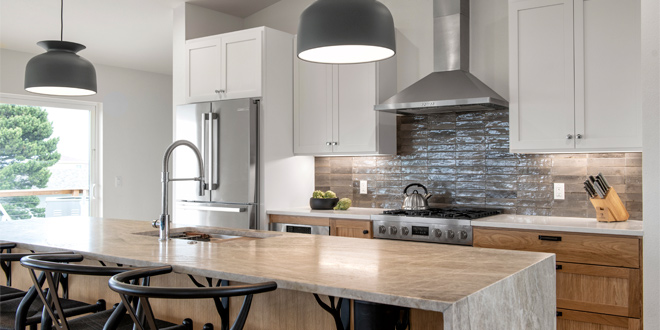 The home remodeling trends of 2023 are focused on remodeling open spaces and making families feel at home. They also include updating appliances, countertops, and cabinetry. Adding entertainment areas and outdoor kitchens are other vital features of the reno trend.

Kitchens are becoming a place for families to show their personalities. Kitchen islands are famous, as are beverage stations. Curved furniture is another trend showing up in many homes. It is also being used to shape patios and decks. In addition to being functional, curved furniture is an excellent way to add an organic feel to your home.

Homeowners are using the latest technology to make their homes more energy efficient. Innovative HVAC systems and solar panel installation will become more common in the coming year. This is a great way to save on utilities. Another significant change is that whole home automation is now more accessible.

Another home remodeling trend in 2023 is the growing popularity of at-home workspaces. More people work from home or convert extra guest bedrooms into home offices. These offices can be functional and comfortable. Increasingly, they are also becoming a way to increase productivity. You will want to keep up with the latest design trends if you have a home office.

Another trend in 2023 is the introduction of large amounts of nature into a space. This can be picture box windows, fiberglass wood-look windows, and rough-hewn wood. Character is introduced to create a soothing and welcoming atmosphere.

Bathrooms are also becoming a sanctuary. This is an ideal time to spruce up your bathroom. New hardware, fixtures, and lighting can make your bathroom more user-friendly. Stylish open shelving can also be a nice decoration feature in the bathroom. You might even consider installing a low-flush toilet, a popular renovation trend in 2023.

Some of the hottest home remodeling trends of 2023 are already taking shape. Among them are rounded curves, a new window type, and a streamlined look. Also in the spotlight are stylish backsplashes with exciting patterns. Colorful lighting is a popular request from homeowners. And, if you can afford to, adding a retractable glass wall can blur the lines between indoor and outdoor living.

If you're considering a remodel, choose the right design for your space. Trends come and go, so you may need to make some creative modifications to make the renovation work. Whether you're looking to update your existing home or build a new one, a skilled design-build team can help you choose the best trends for your space.

Finally, don't forget to consider the energy efficiency of your reno. Innovative HVAC systems and programmable thermostats are both excellent ways to cut down on your utility bills. But you'll also reduce your carbon footprint in addition to saving money. Natural materials like wood, stone, and ceramic are increasingly used in home decor.